CHECK OUT OUR NEWEST STUDIES COMING YOUR WAY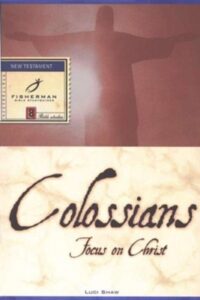 Paul lived a difficult life in a difficult world. Those first-century circumstances could easily have weakened his ministry. What kept his faith fresh and vital? His focus on Christ and his confidence that Jesus, in His full deity, gives us "fullness of life". As we read Paul's letter to the Colossians, we realize that aspects of the heresy that threatened the early church are active in our own world. Paul provides a defense–warning, teaching, and encouraging us to focus on Christ. 8 week study.
Join us for one study
or two!

Wednesday mornings at 9:30
Colossians study, Beginning October 2
FBC Fireside Room
(child care provided Wednesday mornings)
For more info

contact Melissa 509-592-7811
OR
Wednesday evenings at 6:00
Thessalonians study Beginning October 7

in the FBC Fellowship Hall or via Google Hangouts
For more info

contact Jill 509-288-0793

or

Lori

509-432-1405
Wednesday

Evenings
Beginning October 7
1st & 2nd Thessalonians,
Loved by God

"And let us consider how we may spur one another on
toward love and good deeds."