History of Colfax First Baptist Church
This page continues construction…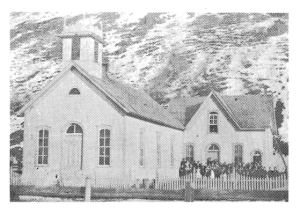 The first church building on 200 N Mill Street
In the late 19th century Colfax was only a village, Washington was still a territory, and settlers had come from all parts of the United States to carve a living on the Palouse hills. There was not a single church building in the entire Palouse region at this time. In November of 1876 a church was started from the efforts of two American Baptist Missionaries (Rev. S. E. Sterns and Mr. Price) and a pastor from Oregon ( Rev. John Rexford). When first organized, the church did not have a meeting place, so one was started at once on the site of the present building, but an uprising of the Nez Perce Indians halted the building and construction was not finished until 1878. The completed building was shared between denominations at times.
The church developed a vision of using the site to incorporate a school for higher learning. When completed, the addition of three classrooms to the building measured twenty-six feet by fifty feet. It was the first denominational school and high school in the whole area. The school employed Miss West from Iowa as a teacher for pupils who came from as far north as the Canadian border, the Coeur d'Alenes to the east, the Cascades to the west, and the Snake River to the south.
The Colfax Academy, as the school was called, was affiliated with the church as long as it existed, but in 1885 the school changed names to the "Colfax College" and a new building was built on the hill west of Colfax. The town now shared in the school with the Baptists in a time of financial difficulties. In a few years these difficulties eventually forced the Baptists to abandon the the school altogether. The original classrooms at the Mill Street site were renovated in 1881 and used as a parsonage. Eventually the financial woes were unraveled by Mr. Newman who acted a pastor and as financial agent for the college as well. All school debts were paid off, and the school received a new footing.
While the early Colfax pastors were giving full time to Colfax, some also commuted to Moscow on the poor roads of the horse and buggy days. They seemed to consider their field to take in the entire country-side, for we read of their preaching in outlying districts such as Diamond, Lee's Siding (Thera), Mockonema, Steptoe, and other places. In addition to the Palouse, the church is recored to have been active in missionary service and giving. Rev. Campbell was the first pastor to give full-time to the Colfax church, but left to serve as a missionary in China in 1883. His daughter later followed in his footsteps to do missionary work in that country. By the year 1891 the church had 134 members and was self-supporting, and developed in missionary giving and Christian work at home.
The second building as it appeared in 1920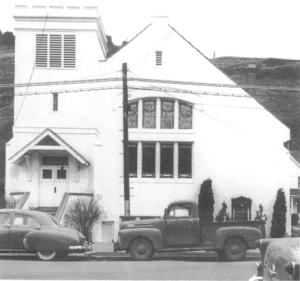 The third building as it appeared in 1960