Join us for a great study, choose one or both!

Ladies' Bible Study @ FBC

Tuesday evenings 6:00 – 7:30 (NO STUDY 11/28)
We hope you join us!
God of Freedom
is a 10-session video Bible study on Exodus 19-40 which explores what freedom looks like for the Israelites under God's good rule and good laws. This study walks through verse-by-verse, revisiting scenes from the Ten Commandments, golden calf idle worship, and the tabernacle. Jen Wilkin invites you to discover a new perspective on Exodus and what these stories can teach us today about how to live as those set free from sin and death.
For more info

contact Kristina

W.
Friday morning study

@ FBC
Meet with us for another great study,
beginning December 1st
9:30-11:00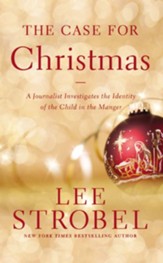 Who was in the manger that first Christmas morning? Some say he would become a great moral leader. Others, a social critic. Still others view Jesus as a profound philosopher, a rabbi, a feminist, a prophet, and more. Many are convinced he was the divine Son of God.
Who was he really? And how can you know for sure?
Consulting experts on the Bible, archaeology, and messianic prophecy, award-winning legal journalist Lee Strobel searches out the true identity of the child in the manger. If Jesus really was God in the flesh, then there ought to be credible evidence, including:
Eyewitness Evidence – Can the biographies of Jesus be trusted?

Scientific Evidence – What does archaeology reveal?

Profile Evidence – Did Jesus fulfill the attributes of God?

Fingerprint Evidence – Did Jesus uniquely match the identity of the Messiah?
The Case for Christmas invites readers to consider why Christmas matters in the first place. Somewhere beyond the traditions of the holiday lies the truth.
(child care provided)
For more info, contact Melissa M. or Kari R.
"And let us consider how we may spur one another on
toward love and good deeds."