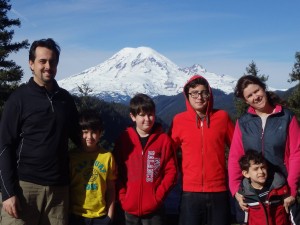 Marcos and Telma Pereira met in 1998 at Camp Victoria, Brazil. In 1999 they were married and have served as missionaries since July of 1999. Both were raised in Christian families involved in missions.
They have four boys; Matheus, Max, Manasses, and Mark.
They have been involved with church planting and today are serving at Victoria
Ministries under Pioneers Mission Brazil. At Victoria Ministries Marcos serves as Executive Director and also as a mobilizer for Pioneers Mission Brazil in the central region of the country.
Birthdays:
Marcos – March 1
Telma – June 22
Matheus – August 31, 2000
Max – November 22, 2003
Manasses – September 1, 2006
Mark – March 7, 2008
Contact:
To support Marcos & Telma financially, donations may be made through the webpage above or submit a check payable to
FBC Missions, First Baptist Church, 200 N. Mill, Colfax, WA 99111.
Please make designation known in memo. Thank you!
All contributions are tax-deductible and are made with the understanding that FBC Missions (a ministry of Colfax First Baptist Church) has complete control and administration of the donated funds.