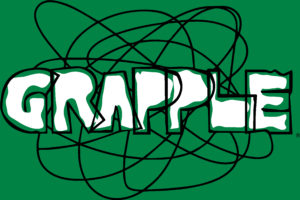 Grapple is based off of real questions that kids have about faith, relationships and choices that they have to make. They will be searching the Bible to find the answer to their questions and build a faith foundation that guides them for the rest of their lives.
Grapple General Schedule:
SCHEDULE HAS CHANGED DUE TO COVID-19
CURRENTLY 6-7 PM WITH NO PIZZA SERVED BEFORE
5:30-5:58 – Free pizza served for all in the Fellowship Hall

5:50-6:00 – Students to Sanctuary for check in and to recite verses

6:00-6:30 – Opening and Large Group time (in Sanctuary)

6:35-6:55 – Small Group time (split up by grade and gender – various locations)

7:00-7:25 – Game time (entire 3-6 grades – in gym)

7:25-7:30 – Closing time in fellowship hall (gym closed)

– all kids must be picked up from this room by an adult, unless they have a signed consent form to leave on their own. Exit through main doors.

PLEASE BE PROMPT IN PICKING UP YOUR CHILD
This year we are learning about:
relationships: Why in the World? & You're not my Friend,
God; Is Prayer Pointless? &

Who Is God?
Choices: Choices, Choices & What do I do when
the Pressure is on?
Dear Parents/Guardians, We enjoy meeting and being with your clubbers each night! We are excited for this year with them. ALL clubbers please be picked up in the fellowship hall at 7:00. This is the room where the pizza is served. There are also signs marking where to go. For safety reasons, it is necessary to have each child picked up by an ADULT (not older sibling) in the room where we finish. If you choose, you may sign the following wavier and your child may be released to go on his/her own or with a sibling. This MUST be signed and returned or we will not allow your child to leave by themselves. We simply worry about the safety of each clubber. There is a lot of activity in the parking lot, and most nights it is already dark and late. We want to make sure each one arrives safely home. PLEASE don't hesitate to contact any one of us (call or text) if you have any questions, concerns or have a last minute change for that evening. Dana 509.844.7414
Please fill out the contact form below so that we know to release your child without you being present. Unless it is filled out, you child MUST be met by an adult each evening at 7:00 in the fellowship hall.
We anticipate a terrific year and want our kids and parents to know that it is a privilege to come to the program. There are a few things you need to know in order to help this year be successful for your child.
The church will open at 5:30pm for pizza. This is for any family member as well as clubber! For safety reasons, please do not drop your child off before 5:30pm if not accompanied by an adult.

Our schedule is above. Please be prompt if you are not coming for pizza.

It is a privilege to use God's house and we need to respect it. (See expectations and consequences)

Our leaders are excited to share their evening with your child, please encourage your clubber to be respectful.

We only have 1 ½ hours, so we want to make the most of our time. Please encourage your clubber to leave their cell phone or any other electronic device at home.

Please take note of when we will not be meeting during the year.

We use Group's Grapple material for the 3rd-6th grade. Each student will receive a drawstring bag with their name on it. This bag holds their book and Bible and is to come to Wednesday Night each week. We will not replace lost bags.
They do not have to do the books to attend Grapple, it is just to their benefit to complete the books and earn the following rewards: Awards
Each child will receive credit for Wednesday night attendance, Sunday School/Church attendance, and bringing their Bible (3 points/wk)

Memory verse (4 points/wk)

Workbook section (3 points/wk)

Possible weekly total=10 points/wk x 25 wks=250 points total possible award
A Parent News letter will be coming home with the end of the year awards. Fees A $20.00 fee will be paid at time of registration to cover books and supplies. If you are unable to pay this please don't let it stop you from bringing your child. There are scholarships available. The year at a glance We will meet every Wednesday until the end of April 29th—Parent night. Please join us! If we cancel due to bad weather, we will update the answering machine at the church (397-4676) and try to have it announced at school. If school is cancelled on Wednesday or out early due to bad weather we will always cancel our Wednesday night programs. Expectations and Consequences Our desire is to run an effective program so that we can make the most of our time together with the kids. We expect the following from our clubbers:
Obedience and cooperation

Participation in all activities

Courtesy to and respect for peers, leaders and the Lord's house (Especially while in the sanctuary during large group time.)

Have fun!


It is our hope and prayer that all clubbers feel welcome, loved and safe. If these simple expectations are met, we believe they will. Negative consequences
Verbal warning to make a better choice

Removal from the situation by a leader to work on a separate activity

Game time privilege removed at the end of the evening

Parent called to pick up clubber
Positive consequences
Relationships built

Verbal praise

Rewards given (AWANA $ and pins earned, opportunity to be spotlighted by their leader during large group time)
We want to hear from you! Please don't hesitate to call if you have any questions about any part of Grapple. We will always get back to you if you don't reach us immediately. We are so looking forward to our year with your child!