Devon & Colleen Reoch and daughters, Charis (born 2012) and Selah (born 2014), live in Salt Lake City and serve on a team working at the University of Utah and a few smaller schools in the Salt Lake area. Devon also gives leadership to the area of operations for our team.
There are very few Christians in the state of Utah. The Reoch's desire is to help build Christ's true church in Utah by making disciples on college campuses in Salt Lake.
Devon & Colleen are excited about what God is already doing in Salt Lake City! Thank you for your prayer and support. You are helping to build Christ's Kingdom in Utah!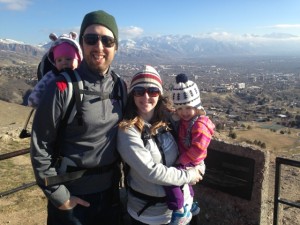 Contact:
Email: devon.reoch@cru.org
To support the Reoch's financially, donations may be made through the following:
2) Submit a check payable to
FBC Missions, First Baptist Church, 200 N. Mill, Colfax, WA 99111.
Please make designation known in memo. Thank you!
All contributions are tax-deductible and are made with the understanding that FBC Missions (a ministry of Colfax First Baptist Church) has complete control and administration of the donated funds.