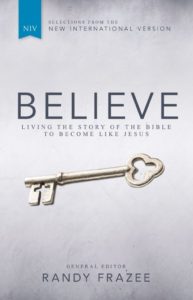 9:45 a.m. in the Sanctuary
Small groups following at 11:00 a.m.
Believe
"Living the Story of the Bible to Become Like Jesus"
Take the next step after The Story to build your confidence in the Bible and your ability to read and understand it for yourself. Randy Frazee leads each session and helps you dive deeper into the Scriptures.
The goal of every follower of Jesus Christ is to become more like Him, but how do you know where to start? What does it really mean to be a disciple of Jesus? The objective of the Believe curriculum is to paint a clear picture of what it means to Think, Act and Be like Jesus.